Welcome to Hotel Alegria!
Step right into the Heart of Lisbon
With a view of the iconic Praça da Alegria, our hotel is located in a recently renovated building dating back to 1865. Its traditional architecture and interior design are inspired by the authenticity of Portuguese culture, which is represented by the character of our building.
In Praça da Alegria, you can enjoy the unique light of Lisbon while being surrounded by palm and banyan trees, all part of Alfredo Keil's original garden. A monument paying homage to the composer is part of the square, where there is also a fountain and a small playground.

Hotel Alegria is situated in a privileged location, in walking distance to the city center, where you can visit Av. Liberdade and Marquês de Pombal. We are also close to charming neighborhoods, such as Bairro Alto and Príncipe Real, which bustles with majestic 19th century mansions and fashionable shops and restaurants.
Just a few steps from our hotel, you will find famous Lisbon landmarks like Largo do Carmo, the São Pedro de Alcântara viewpoint, and the Elevador de Santa Justa.

Our Rooms
Each of our rooms offers a unique and unforgettable experience, reflecting the hotel's authentic architecture and timeless character. The 36 rooms feature a blend of romantic decór and contemporary luxurious comfort.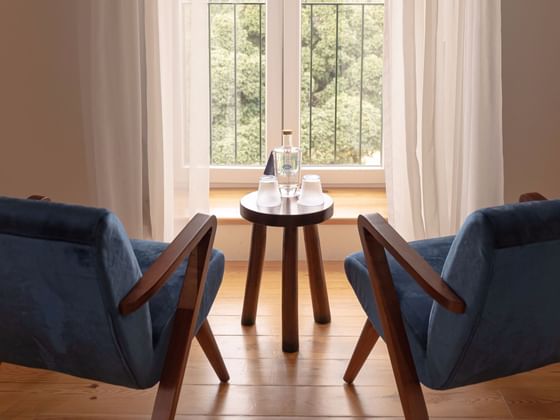 Our Rooms
With just 36 guest rooms and suites, Hotel Alegria offers an intimate detour from the larger, chain-style hotels in Lisbon, Portugal. No matter which room option you choose, you will enjoy a timeless and romantic décor seamlessly blended with contemporary luxury.
Offers
When planning your next Lisbon getaway, be sure to check our special deals for you.